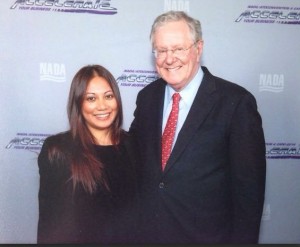 Debbie-Ann Sunga, '08 is a former English major here at UMBC. Here are Debbie-Ann's reflections on her time with the English Department and how she has used that experience for continued growth as a speechwriter:
Fall 2006 
As I sat across the table from an engineering major who I was tutoring at UMBC's Writing Center, he asked me the question that strikes fear into the hearts of many undergraduate English majors: "So, what are you going to do with an English degree?"
He said it with genuine curiosity and slight amusement as he sipped water from his half-empty bottle.
Great question. Well, what was I going to do with my English degree?
Post-UMBC
It's been ten years since that rewarding time I spent at the Writing Center with fellow students harried about essays, take-home tests, and re-writes. And the answer I gave that engineering major turned out to be vastly different than what really happened.
After I walked in UMBC's commencement ceremony in May 2008, I came to a great realization—an epiphany even: I wanted to go right back into a classroom. I took the acceptance offer from Johns Hopkins University (the Zanvyl Krieger School of Advanced Academic Programs) and I moved my things from Baltimore to the Nation's Capital. During those days on Massachusetts Avenue, I took every ounce of what I learned from my undergraduate lessons and I applied it to the Health Comm. & Writing MA Program at Hopkins.
I had two main priorities in D.C.: building my academic foundation (and delaying the stressors of full-time work) was the first one. Giving back to others was the second. While I was in grad school, I worked part-time for the Literacy Lab as a tutor in D.C., as part of the Supplemental Education Services initiative. It's humbling to work with students who haven't been handed a great education; they have to really strive for one. Meanwhile, I also had to 'pay my dues' and feel around the job market. I earned a paid research/writing internship at a great non-profit that promoted global reproductive health care. I started dreaming of a health-research career at the Federal Drug Administration. But then fate stepped in, or should I say, a former White House speechwriter turned professor.
In the Fall of 2011, I serendipitously took a speech writing elective at Hopkins. And my Professor, Robert Lehrman, was serendipitously the chief speechwriter of former Vice President Al Gore. (Fun fact: Prof. Lehrman had been a classmate of Richard Yates and Kurt Vonnegut!) After the first few assignments, Prof. Lehrman told me I had a knack for this kind of writing, but I was doubtful. He insisted I explore this newfound talent. I found the discipline to be 'fun' but wondered what I could do with it. Like many other great professors I've had the privilege of learning from, Prof. Lehrman showed me the way.
He nominated me for a speech writing internship at the U.S. Department of Justice, and I became the junior speechwriter for former U.S. Attorney General Eric Holder. I had the privilege of working with senior staff and authoring Holder's national public remarks, keynote speeches, and statements for Congressional Record. Then in 2012, I got a call from the White House's Deputy Secretary and the Campaign Chief Speechwriter. They offered me a chance to be a Surrogate Speechwriter for President Obama's re-election campaign! I got an inside look at what campaign writers do and how important their work is during an election year. I had the opportunity to write a speech for Caroline Kennedy and others who made speeches in support of President Obama. By the time I graduated Johns Hopkins, I decided to do some more government work. I became a Deputy Speechwriter at the U.S. Department of Transportation until 2013, when I took the Chief Speechwriter position at the NADA.
As a chief writer and public affairs executive, I've been lucky to spread my wings and work with an awesome Public Affairs team. I've also re-learned how to stay up past three am to make a deadline. I write for five main speakers, including the NADA president and chairman. I also serve sixty-three NADA directors from all fifty states. Each year, I write seventy plus speeches and produce a monthly column. But I'm particularly proud of a speech I recently wrote for NADA Chairman Forrest McConnell. He was asked to present at an Environmental Protection Agency forum and talk about challenges with the government's mandatory fuel economy rules (Yawn, right?). I decided to use a food metaphor to frame the debate and make it more interesting.
The speech began like this: "I want to talk about this doughnut…and this stalk of broccoli." The point was that fuel economy mandates were like selling broccoli to customers who really wanted low-calorie doughnuts. It's a conundrum of consumer demand versus government regulations. The automotive press called it "one of the funniest speeches in years."
Present Day
I wholeheartedly believe that the key to my serendipitous success was everything I did to earn my English degree at UMBC and my subsequent master's at Johns Hopkins. My English professors (yours now) made me work hard.
One of the most overlooked aspects of being an English major is that you're mandated not only to write well, but to think well. Sure, that's required in every undergraduate major I suppose. But how many mandate that you articulate what you're thinking as much as the English major? You don't realize at the time that the analytical essay you're composing on Nathaniel Hawthorne's short story or the research paper you're writing on 'normative patterns' in sociolinguistics is preparing you to communicate outside of a classroom. You're being prepared to keenly observe the realities around you—and how to shape them. As a speechwriter, half my job is writing. The other half is figuring my speaker out. I deal with different personalities and comfort levels. And it's my job to be socially attuned and observant so I can get my speakers ready for a room full of friends, skeptics, and at the harshest level—critics. You need a mastery of the English language as well as an intuition for the person in front of you.
Finally, I'd like to get this deep dark secret off my chest: there was a time when I thought my psychology and science courses would prove more "useful." The question of what to do with an English degree can haunt you too. But it turns out, the "real world" is starving for good writers and effective communicators. If it weren't, there would be no such thing as a "speechwriter" or "blogger" or "communications analyst." These days with endless multimedia insta-sharing, doesn't it feel like everyone fancies themselves a writer?
Well, if you're in the UMBC English department I can tell you that you're one of the real ones: a classically trained, nose-to-the-grindstone, earn-your-camouflage "writer." Your professors are four-star generals with pens. You're developing the arsenal you need to take the world by storm. And in another election year, the world needs you more than ever.
So, I'd like to turn that same question over to you, fellow Retriever: what are you going to do with your English degree? I can't wait to read about how you answered this question too.
This spotlight was originally published on January 26, 2016.