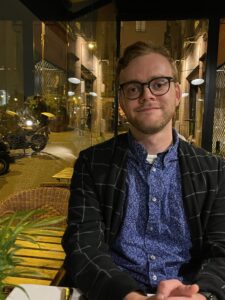 Sam Manas, '16, is a former English major who is now a reporter at Inside Mortgage Finance Publications. Read more about his experience at UMBC and professional career below:
When I arrived at UMBC, I wasn't sure what I wanted to do. But work at The Retriever quickly taught me the value of a robust civic conversation, so I decided on journalism. I developed my reporting abilities under Professors Christopher Corbett and Deborah Rudacille, learned the craft of nonfiction under Professor Michael Fallon and stretched my creative abilities under Professor Steph Ceraso. All of them were thoughtful, caring and kind.
After some internships that helped me broaden my skill set, I attended the School of Journalism at the University of Missouri, Columbia, to delve deeper into the field as a graduate student. There, I worked at a city daily, took investigative reporting and multimedia courses, read lots of fascinating research on journalism and worked for brilliant professors trying new things in research and teaching. In my second year I was a White House Correspondents Association scholar, allowing me to attend classes in Washington, D.C. while covering Congress for the Texas Tribune.
Now, I report on the Consumer Financial Protection Bureau, the country's youngest financial regulator, in addition to writing on developments in mortgage markets for Inside Mortgage Finance Publications.  Created in response to the financial crisis, the CFPB writes rules for consumer financial markets like home and auto lending. But it also enforces those rules and some federal laws, giving it potent and controversial power. Covering it is always challenging, but also rewarding.