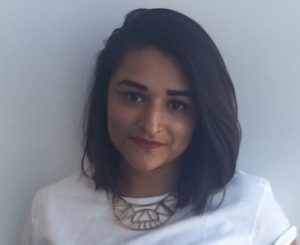 Saira Khan, '09, is a former undergraduate student who is now the Director of Social Media at the New Yorker. Read about her experience at UMBC and post-graduation work below:
After I graduated from UMBC, I spent my first six months living in Karachi, Pakistan, where I worked for Dawn, the leading English newspaper in the country, and did some freelance writing for the Baltimore Sun (with the help of Professor Christopher Corbett, who has always been a wonderful and supportive advocate). After returning to the U.S., I spent a few years working in financial publishing in Baltimore. Then, in 2013, I moved to New York City to attend Columbia University Journalism School.
At Columbia, I helped organize the school's first-ever student-led women's news conference and had my thesis on female genital mutilation reconstruction surgery published in The Atlantic. The summer I graduated I did some more freelancing, including a profile of crime scene cleaners, also for The Atlantic, until I got a full-time job on a new, secret project Facebook was working on: Trending. I spent a little less than two years at the company. I left in March 2016 to join the New Yorker as their social media editor, and at the end of last year I was promoted to Director of Social Media.
In my personal time, I'm still freelancing. I've had stories in the New York Times, the Times Magazine, as well as the newyorker.com. But my all-time favorite personal project is a monthly newsletter I launched, with five of my closest friends, called High-Strung. Every month, we send our subscribers a themed-newsletter with stories, cartoons, and a special playlist. We've been featured in Glamour, Digg, Mic, LitHub, and the podcast 112BK.
---
This spotlight was originally published on April 3, 2018.