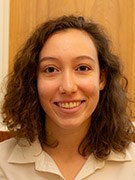 Rebecca Haddaway, '18, is a former UMBC English Honors student who is studying for her Master's degree at Pennsylvania State University. Read about her experience at UMBC and post-graduation work below:
Completing my undergraduate degree in literature in UMBC's English department helped me to develop the passion for the subject that has led me to graduate school. I appreciate the breadth and depth of information that I was exposed to at UMBC and my professors' interest in helping me pursue the avenues that were most interesting to me. The English Honors program was a major highlight of my time at UMBC, because I was able to experience the rigor of completing an original scholarly project that stemmed from the questions that really motivated me toward the end of my undergraduate career. I also value and appreciate the mentoring that I received both as part of that program and in the department in general.
Having graduated from UMBC in May 2018, I am now a masters-level student at Penn State with plans to pursue a dual-title PhD in English and Visual Studies. Although I am still narrowing my research interests, I find that much of my work clusters around the role of the body in literary and visual culture, as well as theorizing archives. In addition to taking classes, I also have a Graduate Assistant appointment and currently teach a first-year rhetoric and composition course. Daunting though it can sometimes be, exploring academia as a profession is an inspiring experience, and I look forward to continuing to develop my own interests within a scholarly field. I really credit my undergraduate experience at UMBC with propelling me in the right direction and giving me a head start on the path to my PhD and beyond.
This spotlight was originally published on March 26, 2019.