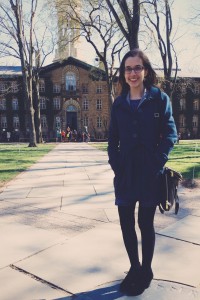 Lauren Bucca, '13, is a former UMBC Medieval and Early Modern Studies minor who currently works as an editorial assistant with Princeton University Press. Read about her experience at UMBC and her post-graduation work below:
My experience at UMBC was incredibly rewarding, especially as it is a place where nerds—or passionately curious people—can call home. The English Department faculty and university itself encouraged curiosity and setting high standards, and they even fostered my own research. I loved my English classes, such as Prof. Gail Orgelfinger's Literature of Chivalry and Prof. Kathryn McKinley's Medieval Dream Visions course. With a passion for the Middle Ages, I decided to also enroll in the new (at the time) Medieval and Early Modern Studies minor. These multidisciplinary medieval classes culminated in an Honors and URA project that took me to England and Scotland for my research. Without such a unique opportunity to conduct my own research abroad, I might not have pursued a Masters. However, encouraging professors, such as Dr. Simon Stacey of the Honors College, provided insight into the pursuit of graduate school. I learned that literature and history were worthy topics to continue studying, as they have indeed shaped the world we live in today. I went to Durham University in the UK for a MA in Medieval and Early Modern Studies. The experience of studying the medieval period in cathedral archives and among world class scholars was greatly valuable and provided me with lessons that I use in my career today.
Although the world of academia still appealed to me, I found my home in publishing, in a place where one can still have a role in the molding of academic discourse. Ever since interning at the Rare Books and Manuscript Department of the Walters Art Museum as an undergraduate, I knew I wanted to work with books. There I learned how books tell the story of history, culture, and the quest for knowledge, from their binding to marginalia surrounding the content within. Now as an editorial assistant at Princeton University Press, I have enjoyed learning more about the editorial process of a book, seeing how an idea is shaped into a narrative that asks and answers the big questions. In academic publishing, I've found that I can still harness the skills I gained in my Masters, from staying organized, to thinking deeply about the projects I'm working on, to better understanding the professors with whom I work. I love books, and I treasure being a part of their journey from manuscript to the finished project on the shelf. As someone who has always loved reading, wandering in bookstores, and collecting old books, I have enjoying being in publishing as it has been a kind of haven. UMBC helped me get where I am today, and I hope future English majors will draw from the wisdom of the department's faculty and the strong research emphasis of the university.
This spotlight was originally published on January 30, 2017.