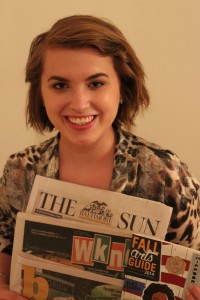 Laura Lefavor, '14, is a former UMBC English student who now specializes in journalism, using the skills and passion she developed in her journalism courses with her position at the Baltimore Sun. Lefavor is a representation of the dedication and committment that students hone here at UMBC. Her achievements post graduation and the exciting new opportunities she has discovered with her career are just a small indication of the success that an English education can bring. Below, Lefavor reflects on her time with the English Department and how she has used that experience for continued growth:
When I first came to UMBC in the fall of 2009, I had no idea what I wanted to major in. I wish I had some great "finding myself" story, but really, all it took was one English class for me to know that I wanted to be involved in writing.
My professors and advisors in the English Department took the time to get to know me and my interests, and once I narrowed my focus to journalism, they always had great suggestions for classes to take or internships that I could apply to. Those internship opportunities and my work with UMBC Bartleby helped me get a feel for the publishing world, and most importantly, gave me the skills I knew would give me an edge when it came time to find a job. After graduation, I immediately landed a position with The Baltimore Sun.
If I've learned one thing from the newsroom so far, it's that original reporting is the most valuable asset you can bring to the table. It doesn't matter how great of a writer you are. You have to know how to shape your stories to appeal to your audience while adding something new to the conversation. After the journalism classes I took at UMBC, I'm always ready for that challenge. I haven't just learned how to pitch a story and write it but how to develop a unique angle and make people care about what I have to say.
As the Arts & Entertainment Coordinator at The Sun, I do a little bit of everything. In addition to producing TV guides, trivia, and other entertainment pieces for the main paper, I handle events listings and spotlights for concerts, art exhibits and other happenings in the city for the b and Wknd papers. I also produce online content and contribute to the Retro Baltimore blog, as well as help out with local arts and entertainment coverage. I've never had two days that are the same, and that's what I've come to love most about being a journalist.
This spotlight was originally published on October 31, 2014.