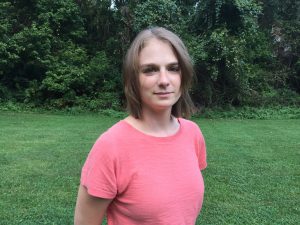 Jessica Batychenko, '18, is a former MA student who is currently pursuing her doctoral degree at the University of Pittsburgh. Read about her experience at UMBC and post-graduation work below:
I started UMBC's MA program in 2015 with the idea that I wanted to teach at the college level and possibly go on to a doctoral program, but I had little conception of what that entailed or how to achieve those goals. During my time at UMBC, I enrolled in classes that sparked my interests – which included a combination of both literature and rhet/comp coursework. In all areas of the department, I was met by faculty with a wealth of expertise and experience, all of whom were enthusiastic to help me improve my research and writing skills.
I found my home in rhetoric where my advisor, Dr. Maher, helped me to refine my focus and provided invaluable insight, guidance, and support as I completed my thesis project. She also helped me survive the painful process of applying for PhD programs and encouraged me to apply for several conferences. With funding from the English department, I was able to present at two conferences ( Conference on College Composition and Communication and the Rhetoric Society of America conference) during my last semester. Dr. McCarthy also provided valuable insight into how to navigate the profession and helped me develop a foundation in composition pedagogy. Even if my interests were outside of her specialty, she always had a reading to recommend or knew someone I should be having conversations with.
I think that the English department's greatest strength is in the faculty's commitment to student success. And as a student working full-time throughout the duration of my degree, I was wonderful to be among people who were always willing to support and advocate for you. My experience at UMBC gave me the knowledge and the tools to successfully progress towards a career in academia. I can't say I have everything figured out, but I can say that I am starting my studies at the University of Pittsburgh on firm ground with a solid background in my discipline, a research focus, and an understanding of both the academic and professional expectations of my field.
This spotlight was originally published on September 12, 2018.