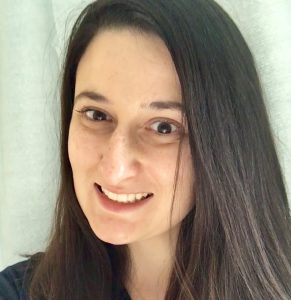 Holly Norman (formerly Roumeliotis), '18, is a former MA student who is currently teaching at Patapsco High School and Center for the Arts. Read about her experience at UMBC and post-graduation work below:
After I graduated from UMBC with a Bachelor's in English in the spring of 2012, I started working as an English teacher in Baltimore County Public Schools. At Woodlawn High School, I taught 10th and 12th grade English and served as SAT coordinator in 2015. I also served as a professional development liaison for a universal design of learning grant, which explored ways to incorporate technology in the classroom.
During my second year of teaching in 2013 I began the master's program in Texts, Technologies, and Literature at UMBC. During my course of study I concentrated on 18th and 19th century literature, with a focus on ethics, cultural values, and monstrosity. I had the opportunity to present at two conferences during my time in the graduate program, including a history conference at the University of Maryland and the British Women Writers Conference in 2016, held in Athens, Georgia.
With Dr. Orianne Smith as a mentor, I developed my thesis, "We shall be monsters cut off from all the world": Gothic Dynamics of Family and Monstrosity in the Eighteenth and Nineteenth Centuries. This research focused on the development of Gothic narratology across multiple generations of literature, from Paradise Lost to Jane Eyre. I argue that writers during the eighteenth and nineteenth centuries deliberately organized plotlines around the dynamic between family and monstrosity because it helped create a flexible and versatile narrative with the potential to engage with a wide range of cultural concerns, including class, gender, politics, and spirituality. In 2018, I successfully defended my thesis, and will graduate in December.
After four years of teaching at Woodlawn, I transferred to a special education position at Patapsco High School and Center for the Arts. I am currently teaching English to ninth and tenth graders with special needs, which range from dyslexia and dysgraphia to emotional and intellectual disabilities. In addition to teaching, I am also a part of the school's teacher leader core. As part of this group, I am responsible for delivering monthly professional developments to the faculty on responsive instruction practices. In addition, I also serve on the behavioral, social, emotional committee, which aims to support staff while working with students that have significant challenges with social skills as a result of trauma and disability. I am also taking classes to qualify for the department chair pool, with the hope of one day becoming a special education department chair at a secondary school.
My time at UMBC definitely helped prepare me for the roles I play today. I have learned pedagogical practices from all of my professors, most notably Dr. Smith, Dr. Falco, and Dr. Fernandez, who inspire students to reach the highest standards of academic excellence. I discovered a life long mentor in Dr. Smith, and I hope to one day pursue a doctoral degree and follow in her footsteps. Without my time at UMBC, I know that I would not be the researcher or teacher that I am today.
This spotlight was originally published on December 3, 2018.