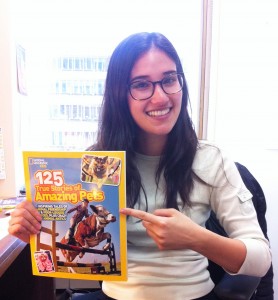 Ariane Szu-Tu, '10, is a former English major in the Literature Track who now works as an editor for National Geographic Kids books in Washington, D.C. While at UMBC, she was also Managing Editor of the Retriever Weekly. Here are Ariane's reflections on being an English major at UMBC. Below, Szu-Tu reflects on her time with the English Department and how she has used that experience for continued growth:
People sometimes disparage humanities majors (especially English majors), saying things like "Good luck finding a job." Those kinds of remarks always leave me confused because I think, If I'm good at something and I love it, why should I try to force myself to do something else just because it's supposedly going to make me more money?
I think that it's important to follow your passions, but also to pay attention to what your natural strengths are. I was fortunate to have professors who really encouraged me to think of writing as a work of art. I realized that I really loved the process of writing – toiling over a piece, re-writing it, getting that almost manic feeling of exhilaration when you feel like you're creating something really special.
Because of my experience at the Retriever, my journalism professor and Retriever staff adviser Chris Corbett helped me land a summer internship at the Baltimore Sun where I got to be a cub reporter for their Features and Health & Sciences sections. An editor there took me under his wing and showed me the true value of having an amazing editor. He made just a few tweaks and suddenly my article was miraculously transformed. I knew I wanted to help people in that same way – by recognizing the potential in someone's work and making a few tweaks or targeted suggestions to help it shine.
A couple of UMBC professors I will always remember are Mike Fallon and Jean Fernandez. Professor Fallon pushed me to be a better writer and to realize that I needed to be a better editor for my own papers. Professor Fernandez has an awe-inspiring ability to recite the perfect famous literary quotation to illustrate her point. I found that I was always mulling those words over long after class had ended (and then I would later whip them out to impress my parents).
Thanks in large part to the consistent guidance of my UMBC English professors, I've developed more confidence in my abilities, which helped me attain this amazing job as an editor for National Geographic Kids. At Nat Geo, I project manage and edit over twenty kids' books per year, overseeing the book from idea generation to the end product.
I hope that the books I work on help ignite curiosity and help kids figure out what excites them.
This spotlight was originally published on January 19, 2015.