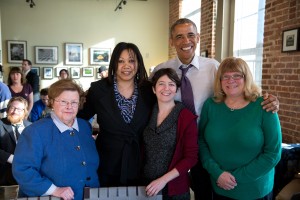 Amanda Rothschild, '07, pictured in red, is a former English major here at UMBC and proprietor of Charmington's in Baltimore. Below, she reflects on her time with the English Department and how she has used that experience for continued growth:
In December of 2007 I graduated from UMBC, a couple years later than planned. I bounced around the Psychology and Sociology Departments before settling on English, and also worked full-time in food service while making up for some rough semesters. My five-year high school reunion had already passed; I remember jabbing the toe of my shoe into the floor of Mad River Tavern as old classmates caught up with each other, half-listening while recalling how as a kid my mom would tell me if I dug deep enough into the earth, I'd find my way clear to China. I wished at that moment it was true. Reluctantly, I talked about my life; I got nods and comments like "oh… a barista? I totally envy you, trust me. The law program at Yale is sooo stressful!" Right. I thought I might actually die, and that seemed like a pretty swell option.
Luckily, that wretched night and my upcoming graduation were followed shortly by the Great Recession. My dream was to become an editor for a literary journal. Working on the Bartleby team at UMBC had given me the kind of professional experience that's lacking in waiting tables and making lattes, and I desperately wanted to read poetry for a living instead of the tips left on credit card receipts.
While the house bubble was bursting, though, the publishing field was going through its own identity crisis. I stayed at my coffee shop job for another year or so while the shop also struggled through the recession. My next stroke of luck hit in February of 2009, when the shop closed its doors and I lost my job.
The whole lot of us from Bluehouse decided to put our heads together and re-open a cafe we would all own collectively. It seemed risky, but not much more than living off unemployment in the middle of a recession. We spent a year and a half building the business and eventually the space that would become Charmington's. We opened our doors in September of 2010, and a handful of twenty-somethings became business owners for the first time. I had no idea what I was doing.
That is to say, I thought I had no idea what I was doing. One of the hidden blessings of an English degree is its frustrating abstraction. Some majors have pretty clearly carved-out paths after graduation; English requires some creativity, which my professors provoked in spades. It demands cultural literacy and thoughtful reflection; attention to detail and to audience. I remember handing in papers and poems to Professors Orgelfinger, Edinger, and Pekarske, work I had spent weeks on; they would be returned with one line circled towards the end and a comment like "this is your topic. Scrap everything else and rewrite." I'd be stunned, mortified, but I would rework the essay and discover they were right.
Life is the same way. We work towards something for weeks, months, years, and towards the end of a project we realize we've been working towards something different this entire time. It doesn't make the prior work a waste – it prepares us to discover what's really important.
In opening Charmington's, I spent hours working on spreadsheets and other things that made the literature major in me cringe. I hired people, and fired them too. In time, I learned to feel comfortable being my own boss. As a child I read voraciously, obsessively, because I wanted to create a world different from what I already knew; owning a business became my adult version of just that. I began using my experience in business to join labor coalitions and fight for improved labor laws. I wrote testimony for state and federal economic hearings, and occasionally spoke at State House in Annapolis. From there I was invited to multiple roundtable discussions with former Governor O'Malley, several US Representatives and Senators, and the Secretary of Labor.
In January, I was asked to meet about paid sick leave with some White House staff at a nearby restaurant. When I arrived, I was escorted right back to my own cafe, where I was told President Obama would shortly be joining me for lunch. He did in fact show up and sit down with me and two other local women for nearly two hours to learn about our lives and our stances on labor regulations. He also tipped the shop quite well on the meal.
These opportunities are mind-blowing and unusual, and I didn't understand why they were being offered to me in particular. I asked; it was because they found my story compelling, the facts grounded in concrete detail but adorned with meaning. They liked my voice and found it authentic. UMBC didn't give me that voice, but it did help me uncover it, shape it, and take ownership of it. All of my unlucky circumstances between graduation and today truly were strokes of real luck, because they forced me to be inventive and strong. A career was not handed to me after graduation, but the time I spent with the English Department and Bartleby helped me craft my skills, trust my vision (and the vision of my team members), and to take pride in my work, food industry and all.
This spotlight was originally published on November 15, 2015.