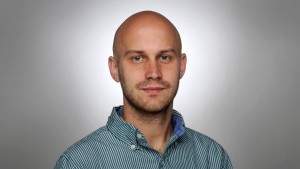 Our featured alum is Alexander Pyles, '09, a former English major and Journalism minor here at UMBC. Here are Alexander's reflections on his time with the English Department and how he has used that experience for continued growth at the Baltimore Sun:
A friend at UMBC once playfully chastised another for picking up an English writing minor her sophomore year. "What are you going to do with that?," he asked. "Open an English store?"
It was a good line. I laughed, even though I'd entered the university as an English major the semester before. I left a few years later with a B.A. in English and now, nearly ten years since that discussion, I'm not a storekeeper.
Instead, I used what I learned from newspaper internships, four years at UMBC's student paper, The Retriever Weekly, and numerous classes on writing and literature to build a career in journalism. I'm now NFL Editor at the Baltimore Sun, where I craft coverage of the United States' most popular sport for a major metropolitan news operation.
It's actually my second stint at The Sun. My first was as a sports department intern in 2007. Though the operation has changed a lot since then, the principles of journalism I learned as a college sophomore remain. Each day, I seek to ensure our coverage is informative, accurate, fair, entertaining, and easily understood—that last part, especially, is where strong writing and editing skills are needed.
It's often said that a good way to become a better writer is to read writers who are better than you. That's great advice. But had I not spent so much time as a student writing and editing the work of others—whether it was at a professional news organization, at The Retriever Weekly, or in class—I wouldn't have the confidence to help another professional improve his/her work or craft my own.
Had I not engrossed myself in all three—internships, the student paper, and class—I might have had to try to open that English store.
This spotlight was originally published on August 28, 2015.