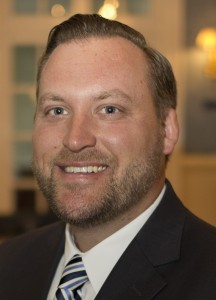 Adam Trice, '04, is a former UMBC English major who has since graduated with an MFA in Creative Writing/Publishing Arts from the University of Baltimore. Trice is also a poet and songwriter for the musical act Red Sammy. Read about his experience at UMBC and his post-graduation work below:
It's been almost thirteen years since graduating from UMBC and I still remember English Professor Piotr Gwiazda discussing the concept of simulacrum—the likeness, similarity, or imitation of a person or thing…an image without the substance or qualities of the original—during a senior seminar course. Concepts like this are more relevant than ever. Today's excess of social media platforms (Facebook, Twitter, Instagram, Snapchat, etc.) influence us to substitute and accept virtual social interactions for the real thing. This substitution for real face-to-face interactions, in my opinion, can be extremely stifling and damaging on the human spirit and society as a whole.
In addition to concepts like simulacrum discussed during English courses, writing, public speaking, and analyzing the world around us through literature were key areas of formation while at UMBC. Faculty members like Professor Gwiazda and Professor Shivnan were two of my favorites who taught me how to embrace creativity, think critically, and not to accept imitation for reality.
Minimalist authors (traditional and contemporary) like Ernest Hemingway, Raymond Carver, and Junot Diaz solidified my decision to become an English major. I enjoyed reading and reflecting on literature as well as taking my best stab at creative writing. Rather than choosing the teaching track at UMBC, I elected the professional writing track. In addition to taking literature and creative writing courses, I also took technical writing courses and participated as part of UMBC's English tutoring program, which assisted ESOL students and students who needed assistance with planning, drafting, revising, and refining research papers.
Since graduating, I was able to utilize my English background to be successful within the business world (e.g. proposal writing, grant writing, contracts, business development, fundraising). My first few jobs after college involved proposal writing for the for-profit arena for a Fortune 500 company in Baltimore, MD. Later, I worked within business development roles as a proposal and contract writer. Today, I work within the non-profit sector as a major gifts fundraiser. I serve in a leadership fundraising role at Loyola Blakefield, located in Towson, MD, where I build partnerships with individual benefactors, foundations, corporations, and other charitable giving organizations.
Outside of my day job, I am a writer and songwriter. I perform original music locally and regionally in venues ranging from art galleries to rock n' roll music festivals. I continue to enjoy reading, listening, and learning from other writers, songwriters, and artists. For me, an English degree from UMBC has opened my eyes to the world around me and has helped me forge my own path in life.
This spotlight was originally published on October 30, 2016.