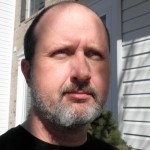 Areas of Interest: Technical Communication and Creative Writing
---
Contact Information
Email: tnelso@umbc.edu
Office: PAHB 411
Office Number: 410-455-2628
Education
M.S. in Professional Writing, Towson University
B.S. in Communication, Towson University
---
Biography
---
Timothy Nelson, Part-Time Lecturer, is a writer, editor, poet, and journalist who teaches courses in Technical Communication here at UMBC. He has worked as a content editor, assistant editor, and writer for several publications and a literary press. In 2010 and 2011, Nelson won grants from the National Endowment for the Humanities to study landmarks of American history, focused on the Transcendentalist thinkers (Fuller, Emerson, Thoreau, the Alcotts, etc.) and the legacy of Black Mountain College.
His homage to Kerouac, and the city of its title, "A San Fran Serious," was published by Sacramento Free Press as part of its Poems-for-All chapbook series. Other poems have appeared in Poets' Ink, a Maryland State Poetry and Literary Society broadside, Grub Street, and the online journal, Yes, Poetry. His music and cultural reviews can be found online at PopMatters.com and Glide magazine, among others.
His work experience includes seven years in motion picture production, eight years in sales and marketing, and ten years in education.
For more information on his writing, visit
timjnelson.jimdo.com