TOMORROW: A Beloved Reading of Toni Morrison
September 18, 12:00-1:30, AOK Library Rotunda
Via the Dresher Center, where you can RSVP for the event: https://my3.my.umbc.edu/groups/dreshercenter/events/73475
A Beloved Reading of Toni Morrison
September 18, 12:00-1:30
AOK Library Rotunda

The Dresher Center for the Humanities at UMBC and the Department of English invite you to honor and remember the life of author and Nobel laureate Toni Morrison with a "read-in."
The first African-American woman to win the Nobel Prize in Literature,
in 1993, Toni Morrison was the author of 11 novels as well as children's
books and essay collections. Among them were celebrated works like Song
 of Solomon, which received the National Book Critics Circle Award in
1977, and Beloved, which won the Pulitzer Prize in 1988. Toni Morrison died at the age of 88 on August 5, 2019.
You are invited to read a short selection from a Morrison work or just come to listen.
To volunteer as a reader, please contact Courtney C. Hobson, Dresher Center Coordinator, at chobson1@umbc.edu.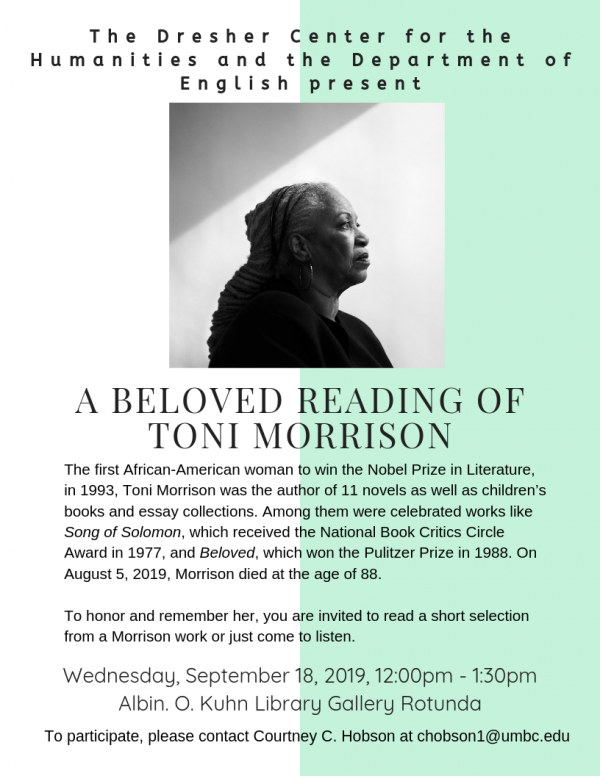 Posted: September 17, 2019, 2:50 PM