English Department Student Spotlight
Celebrating another successful year!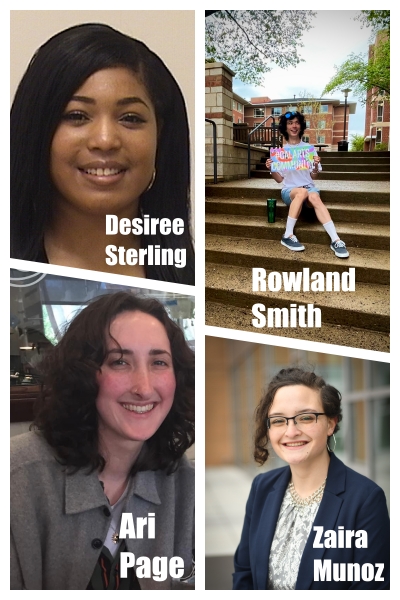 Our English students have accomplished a lot this year! Here are a few highlights:
Desiree Sterling, 2021-2022 Fellow of Pennsylvania State University's Cooper-Du Bois Mentoring Program
"This highly selective program offers a supportive cohort for historically excluded scholars to explore paths to doctoral studies in English and African American/Diaspora Studies. As a part of this year's cohort, I had the privilege of interacting with Penn State's faculty. This accomplishment perfectly aligns with my intellectual aspirations as a current student in UMBC's Text, Technologies, and Literature M.A. program and has enriched my research prospects and academic interests. Moreover, joining this network of seasoned scholars and budding researchers (saturated with impressive knowledge and practical wisdom) has amplified my passion for this area of research."
Rowland Smith, California Institute of the Arts Creative Writing M.F.A. Program
"I was recently accepted into the California Institute of the Arts in Santa Clarita, California, for their Creative Writing MFA Program in their school of Critical Studies! I do not have a specified discipline yet, but I am interested in their "Writing and Performativity" track, which seeks to incorporate kinesthetic and musical notions as tools for writing. I'm very excited about this as I've long admired the school! My uncle used to take me on tours of the campus when I was a child. This program offers an excellent opportunity to incorporate both my English Lit Degree and my Acting Degree."


Ari Page, Graduating M.A. Student, thesis: 
(Trans)formative Works: Fanfiction, Authorship, and the Digital Lives of Transgender Fans
"While fandom has historically been a discursive space for fans to read against the grain of a text and create limit-defying paratextual transformations of a source text, trans fans have typically been left out of fan studies' analyses of fandom or regarded in the same terms as queer sexuality in fannish practices. Trans fans have unique reading and writing practices worthy of their own considerations within fan studies, and fandom itself is a rich site for trans identification. I look toward trans fans' creative responses to Teen Wolf, Steven Universe, and Ouran High School Host Club that center affect, create earnest representations of trans bodies, and challenge the limits of fan studies' notions of queerness and the body. My project calls for a new theoretical lens that uses modes of fannish interpretation that typically center on sexual identification for how we analyze the ways in which trans euphoria can be accessed through fannish creativity."
Zaira Girala Munoz, accepted into three different PhD programs, attending The Ohio State University English M.A./Ph.D. program
"I have decided to attend The Ohio State University for graduate school! Ultimately, OSU's tremendous funding offer, the kindness and empathy of the grad students and faculty, and their demonstrated commitment to graduate student well-being made OSU my choice in the end. I will also be joining UMBC (and other) McNair alum that I know within the humanities depts and beyond at OSU. My research interests sit at the interfaces of technical communication, minority studies, and the rhetoric of science and medicine. Specifically, I am interested in how medical and scientific institutions frame uncertainty within the broader context of the reproducibility crisis and how these discourses rhetorically engage with minoritized communities and vice versa."
Posted: May 18, 2022, 4:26 PM