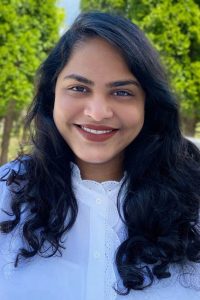 Iva Patel, '07, is a former UMBC English student who is now Assistant Professor in the department of Religion and Philosophy at Augsburg University in Minneapolis. Read about her experience at UMBC and post-graduation work below:
I came to the English department at UMBC on a whim. While passing through the building where a minors fair was being held, I wondered if I could parlay my enjoyment of reading into a minor. Professor Michael Fallon encouragingly assured me that I could do so. Within a semester of taking literature courses, I declared English as my major and added a creative writing minor. However, I was not planning to build a career with this degree. For that, I was completing a Biological Sciences program. My literature and writing classes were purely for enjoyment. But I was hooked from my first class (taught by Professor Brian Dunnigan). The literature and writing courses animated me unlike any other I had taken. Now, sixteen years later, I am a scholar of South Asian devotional literature with a Master of Arts degree in South Asian Regional Studies from University of Pennsylvania, and a Master of Fine Arts degree in Literary Translation and a doctorate in Religious Studies from University of Iowa. I am currently an Assistant Professor in the department of Religion and Philosophy at Augsburg University in Minneapolis.
I owe much to the English Department faculty for the foundation they gave me to become the academic I am today. Professors Michael Fallon and Chris Corbett taught me to verbalize my observations and opinions and to think and write with clarity. I can still recall sitting in their offices, which were adjacent to each other, and having lengthy conversations about poetry, writing, and a potential career in academia or journalism. I did not realize until much later—when I began teaching undergraduate students—their incredible investment of time, encouragement, and knowledge in my education. Thinking about their mentorship humbles me. Professors Orianne Smith and Gail Orgelfinger are other faculty I remember fondly for their support and pedagogy. Their discussion prompts set our classroom buzzing into conversations where students challenged and built upon each other's interpretations of stories and sonnets. I still remember the energy and the camaraderie in those classes. I often think about these classroom experiences while planning my syllabi so my classrooms too are comfortable spaces for community building and student engagement.
The department in general was a very fertile space in terms of course instruction, faculty expertise, and collegiality that facilitated my intellectual growth. Afterall, I, a brand new immigrant at the time with no financial cushion and graduating at the start of an economic recession, switched my career plans from the stability of the healthcare industry to the uncertainty (at the time) of humanities. And I have had no regrets. As I work on my book manuscript on the rhetoric of devotion in poems from western India, I cannot help but look back at the journey that has brought me to this stage. I must thank my professors in the English Department at UMBC for a foundation on which I could build a career of which I am immensely passionate and proud. Thank you, especially, to Professors Fallon and Corbett, my two advisers in the department.
This spotlight was originally published on January 11, 2021.