English Honors Program Info Session
Lunch provided!
Wednesday, October 23, 2019
12:00 PM – 1:00 PM
Performing Arts & Humanities Building : 428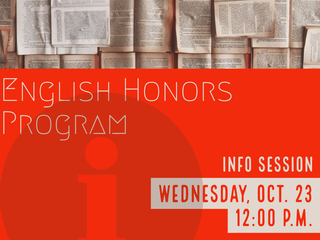 Interested in deepening your studies in the English department? Join us on Wednesday, October 23 at noon to learn about the benefits and opportunities you can gain by entering the English Honors Program. The info session will be held in PAHB 428 and lunch will be provided.

See you there!