Humanities Teaching Lab: Thinking Outside the Classroom
Transforming Courses for Community Engagement
Friday, October 11, 2019
10:00 AM – 12:00 PM
Performing Arts & Humanities Building : 216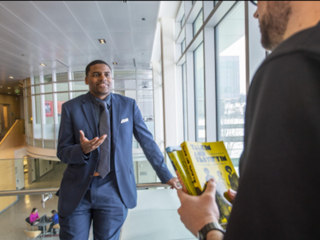 Humanities Teaching Lab: Thinking Outside the Classroom - Transforming Courses for Community Engagement
Friday, October 11, 2019
10:00 AM - 12:00 PM
Performing Arts & Humanities Building: 216
In this
Humanities Teaching Lab (HTLab)
,
Dr. Earl Brooks
(Assistant Professor of English) and
Dr. Jennifer Maher
(Associate Professor of English) will lead an interactive workshop on transforming courses to integrate community-engaged assignments, use new technologies, and engage with social justice pedagogy. Both Dr. Brooks and Dr. Maher implemented changes to their courses with funding from the Inclusion Imperative's HTLabs Course Transformation Support Grants.
Dr. Brooks transformed his course, Sounds Like Social Justice, a rhetoric and composition course that combines sound studies with advocacy rhetoric. Dr. Brooks challenged students to create interactive media projects that use sound to tell stories about specific locations, events, or issues related to social justice. HTLab participants will learn how to use sound recording devices and the free audio editor, Audacity, to reimagine narrative-oriented assignments.
Dr. Maher transformed her course, Baltimore: Race, Rhetoric & Technology, by partnering with a Baltimore organization, Community Closet. This organization serves various communities throughout the city by organizing a free clothing exchange. Students not only developed texts that supported the mission of the organization but also developed a more complex understanding of the constitution of Baltimore itself. Dr. Maher will share strategies for fostering community partnerships and taking coursework out of the classroom and into the city.
Dr. Jessica Berman, director of the Dresher Center, will discuss the Course Transformation Support Grant competition (deadline November 15, 2019) and lead a Q&A session for prospective UMBC faculty applicants. Click here for grant application guidelines and further details.
The Inclusion Imperative is made possible by a grant from The Andrew Mellon W. Foundation.