Forgetting Lyric: Frances Ellen Watkins Harper and American
A talk from Virginia Jackson, Univ. of California, Irvine
Wednesday, April 17, 2019
4:00 PM – 5:30 PM
Performing Arts & Humanities Building : 216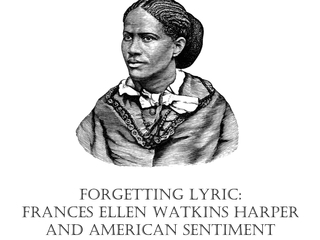 Forgetting Lyric: Frances Ellen Watkins Harper and American Sentiment
April 17th, 4pm in the Dresher Center (PAHB 216). The event will be followed by light refreshments. 

This talk will place contemporary critical debates about the definition and history of lyric poetry next to a fierce little lyric written by a nineteenth-century American poet never mentioned by those critics. Frances Harper—who, in addition to being a poet, was also a Baltimorean and an abolitionist—saw some of the current issues in American poetics coming, and she intervened in ways we have yet to take into account. 

Virginia Jackson is UCI Endowed Chair of Rhetoric and Critical Theory in the Departments of English and Comparative Literature at University of California, Irvine. She is the author of Dickinson's Misery: A Theory of Lyric Reading (Princeton UP, 2005), which won the Christian Gauss Prize and the MLA Prize for a First Book. She is the editor of On Periodization: Selected Essays from the English Institute (ACLS E-Book, 2010; Meredith McGill, series editor) and, with Yopie Prins, the co-editor of The Lyric Theory Reader: A Critical Anthology (Johns Hopkins UP, 2014). Her next book, Before Modernism: The Invention of American Poetry is forthcoming from Princeton UP. Her essays in historical poetics have appeared inPMLA, MLQ, Victorian Poetry, Studies in Romanticism, Nineteenth-Century Literature, the Los Angeles Review of Books, and elsewhere. In her current project, she is thinking about versions of nineteenth-century America in the work of a few contemporary black poets in the US. She is one of the founding members of the Historical Poetics working group.

This talk is sponsored by the Eminent Scholars Mentoring Program and the Department of English, UMBC.