Eminent Scholars Talk: Guthrie P. Ramsey, Jr.
Black Music and Social Protest: From ' Souls' to Kendrick...
Thursday, April 12, 2018
4:00 PM – 5:00 PM
The Music Box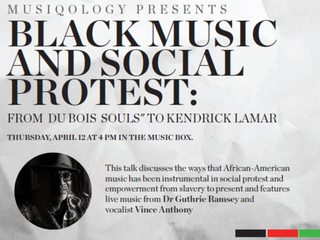 On Thursday, April 12, 2018, Professor Guthrie P. Ramsey, Jr. of the University of Pennsylvania will deliver a talk entitled, "Black Music and Social Protest: From Du Bois' Souls to Kendrick Lamar," as part of the Eminent Scholars Program at UMBC. The event, which will take place in the Music Box (in the Performing Arts and Humanities Building, Room 151) at 4:00 PM, "discusses the ways that African-American music has been instrumental in social protest and empowerment from slavery to the present and features live music from Dr. Guthrie and vocalist Vince Anthony." This is certain to be an exciting and commanding event; we look forward to seeing you there. 
Biography: Guthrie P. Ramsey, Jr. is a musicologist, pianist, composer, and the Edmund J. and Louise W. Kahn Term Professor of Music at the University of Pennsylvania. Widely published, he is the author of Race Music: Black Cultures from Bebop to Hip-Hop, The Amazing Bud Powell: Black Genius, Jazz History, and the Challenge of Bebop, and African American Music: Grove Music Essentials. He is currently completing two new books, a collection of mid-career essays titled Who Hears Here? and a monograph history of African-American music from the slave-era to the present. As the leader of the band Dr. Guy's MusiQology, he has released three CDs (Y the Q, The Colored Waiting Room, and B Eclectic) and has performed at venues such as The Blue Note in New York and the Annenberg Center for Performing Arts in Philadelphia. Among his other musical works is "Someone is Listening," a commission written with poet Elizabeth Alexander commemorating the 100th anniversary of the NAACP. His three-movement suite for voice and jazz ensemble, Art Songs in the Kingdom of Culture, premiered in February 2012 and was written in honor of W.E.B. Du Bois.