2017 Big Prize Poetry Slam
"Slam Big! Win Big!"
Friday, October 6, 2017
6:30 PM – 8:30 PM
Performing Arts & Humanities Building : Atrium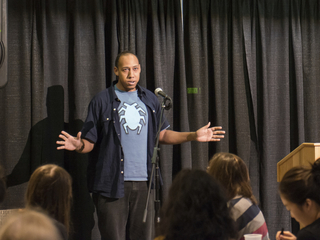 The much-anticipated Big Prize Poetry Slam finally returns for UMBC's 2017 Homecoming on Friday, October 6th from 6:30 to 8:30 PM in the Atrium of the Performing Arts and Humanities Building. This free event--a gathering place for poets, lovers of poetry, and friends--features stunning readings by UMBC students and alumni as well as an assortment of delicious refreshments, both aimed at leaving your mind and your stomach filled. We look forward to seeing you at the event and celebrating together the wonderful world of the word.
This event is sponsored by the UMBC Homecoming Committee, the Department of English, and Bartleby (UMBC's creative arts journal).