2017 Sound Studies Faculty Working Group Symposium
Wednesday, April 26, 2017
3:00 PM – 4:30 PM
Performing Arts & Humanities Building : 151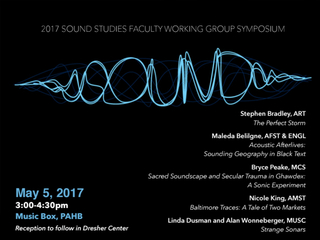 The second Sound Studies Faculty Working Group Symposium will take place on May 5, 2017 from 3:00 to 4:30 PM in the Performing Arts & Humanities Building Music Box (Room 151). The event will include presentations by faculty from Art, English and Africana Studies, American Studies, Media & Communication Studies, and Music. 
Stephen Bradley, The Perfect Storm
Maleda Belilgne, Acoustic Afterlives: Sounding Geography in Black Text
Bryce Peake, Sacred Soundscape and Secular Trauma in Ghawdex: A Sonic Experiment
Nicole King, Baltimore Traces: A Tale of Two Markets
Linda Dusman and Alan Wonneberger, Strange Sonars
A reception with light fare will follow. We look forward to seeing you there.