Department Reading Series: Tim Seibles
Wednesday, March 8, 2017
5:00 PM – 6:00 PM
Library and Gallery, Albin O. Kuhn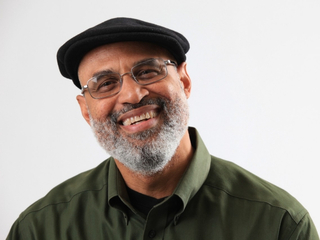 On Wednesday, March 8, 2017, the English Department will host a reading from Tim Seibles, Poet Laureate of the State of Virginia, in the Albin O. Kuhn Library and Gallery at 5 PM. This event, part of the departmental reading series, seeks to showcase the work of prominent authors from across the nation who provide us access, through their writing, to the wonderful world of the word.
Originally from Philadelphia, Tim Seibles has received fellowships from the NEA and Provincetown Arts Center, and he was the winner of the Open Voice Award from the 63rd Street Y in NYC. His work appears in journals and anthologies such as Black Renaissance Noire, Poetry, and Best American Poetry. A highly active ambassador for poetry, Seibles presents his work nationally and internationally at universities, high schools, cultural centers, and literary festivals. He has been a featured author in the Vancouver International Writers Festival (Vancouver, Canada), in the Calabash Festival (Treasure Beach, Jamaica), and in the Poesia en Voz Alta Festival (Mexico City). He is a member of the English Department at Old Dominion in Norfolk, VA where he teaches both graduates and undergraduates. Tim Seibles is the author of eight collections of poems, has been a finalist for the National Book Award, and is the winner of the Theodore Roethke Prize. He has just been appointed Poet Laureate of the State of Virginia.
Of his latest book, Poet Kwame Dawes has written: "Seibles is an essential American poet, and he wears this mantle with sheer mastery, endearing self-deprecation, and grace in One Turn Around the Sun." Cornelius Eady has this to say: "Tim Seibles. When the world grows nostalgic, he swings real. When the world turns bitter, he stretches out his arms in verse. When the world tries to deny, he stares it in the face and tells the truth. Then asks it for a dance. I'm tempted to say One Turn Around the Sun is Tim Seibles' best book, but that'd be like saying Beethoven stopped at eight symphonies."
This event is sponsored by the English Department. We look forward to seeing you there.