Bartleby Writer's Workshop
Monday, October 24, 2016
12:00 PM – 1:00 PM
Performing Arts & Humanities Building : 428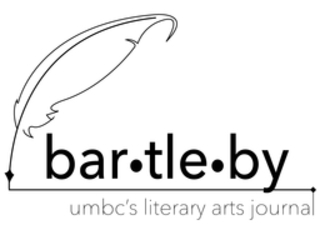 Are you a student who enjoys expressing yourself in fiction, creative non-fiction, or poetry? Would you like to review your work but are not sure where to go? The staff of
Bartleby
will be hosting a friendly writer's workshop on Monday, October 24, 2016 from noon to 1:00 PM in the Performing Arts and Humanities Building, Room 428.
Bartleby is UMBC's creative arts journal that is published yearly, made up of student submissions of fiction, creative non-fiction, poetry, art, and photography. We are currently looking for submissions for our 2017 edition, so now is the time to come forward with any pieces that you have been hoping to share with the UMBC community. 
This will prove an exciting event, filled with fun, fellowship, and stimulating conversation about the work you produce. We hope to see you there.