Reading Series: Natalie Diaz
Wednesday, November 2, 2016
5:00 PM – 6:00 PM
Library and Gallery, Albin O. Kuhn : Gallery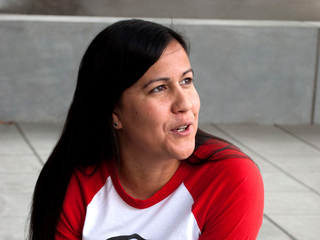 We are pleased to welcome poet Natalie Diaz as part of the English Department Reading Series on Wednesday, November 2, 2016, at 5:00 PM in the Albin O. Kuhn Library and Gallery. There will be a reading followed by a short Q&A and booking signing. Books will be available for sale at the reading.
Natalie Diaz was born and raised in the Fort Mojave Indian Village in Needles, CA, on the banks of the Colorado River. She is Mojave and an enrolled member of the Gila River Indian Tribe. Diaz's work has also appeared in Narrative Magazine, Gwarlingo, The Rumpus, and Ploughshares. Her poetry has garnered the Nimrod/Hardman Pablo Neruda Prize for Poetry, the Louis Untermeyer Scholarship in Poetry from Bread Loaf, the Narrative Poetry Prize, the Holmes National Poetry Prize from Princeton University, a U.S. Artists Ford Fellowship, a Native Arts Council Foundation Artist Fellowship, and a Lannan Literary Fellowship. Her poems, folding Spanish and Mojave into American English, yield an urgent and important new voice to the cannon of contemporary Native American poetry, finding a place among the work of Leslie Marmon Silko and Joy Harjo.
Her collection, When My Brother Was An Aztec (Copper Canyon), blends questions of identity and belonging against the background of Diaz's reservation upbringing. Called "beautiful" by the New York Times Book Review, the collection was further praised by Coldfront as an illustration of Diaz's "capacity for language and metaphor, while still heeding her personal experience." 
Diaz is also an advocate for the Mojave language and a director of the language preservation program at Fort Mojave. Her work with three surviving fluent speakers of Mojave has been featured on news outlets including PBS NewsHour. She is a graduate of Old Dominion University, where she earned her MFA after playing professional basketball in Europe and Asia.
We look forward to seeing you at another exciting and inspiring reading as part of the ever-evolving English Department Reading Series.