CURRENTS Talks: Belilgne and Holter
Wednesday, October 19, 2016
11:30 AM – 1:00 PM
Performing Arts & Humanities Building : 216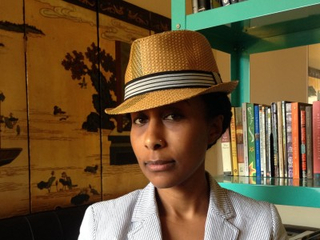 As part of the Dresher Center for the Humanities' CURRENTS: Humanities Work Now talks, on Wednesday, October 19, 2016, Assistant Professor Maleda Belilgne and Andrew Holter, '12, will be discussing their work from 11:30 AM to 1:00 PM in the Dresher Center conference room (PAHB 216).
Holter will be presenting, "The Vanguard is Never Caught Napping: Informants and Police Inside the Black Panther Party in Baltimore, 1968-1972," as part of his current work in the Historical Studies M.A. program here at UMBC. The English alum's project is aimed at understanding more about how the FBI's Counterintelligence Program (or COINTELPRO) was carried out in Baltimore and in particular the outsized role of undercover operatives and informants in the collapse of the local branch of the Black Panther Party. He will talk about some of the obstacles that he has encountered in pursuing a history that has been kept secret for so long and from so many sides.
Belilgne will be presenting, "The Quest for Livable Space: Futurity and Sonority in Early Twentieth-Century Black Narrative." Faculty in both the departments of English and Africana Studies, Belilgne will examine Pauline Hopkins's Of One Blood; Or, the Hidden Self, published in serial format between 1902 and 1903 and one of the earliest examples of black speculative writing. In a fantastical format, the work tackles racial passing, African antiquity, European imperialism, the occult sciences, theories of embodiment and double consciousness, as well as the power of the African-American singing voice. She will explore the soundscape of American raciality in Of One Blood, a radical configuration of the shriek and song that abstracts geography, corporeality, and temporality to map livable space for black publics.
The Department of English thanks the Dresher Center for Humanities for hosting this wonderful series of talks each year, often providing a space for our faculty to share their work in progress.