Medieval and Early Modern Studies Colloquium Lecture
The Islamicate Geographies of "The Female Wits"
Tuesday, September 27, 2016
4:00 PM – 5:30 PM
Library and Gallery, Albin O. Kuhn : Gallery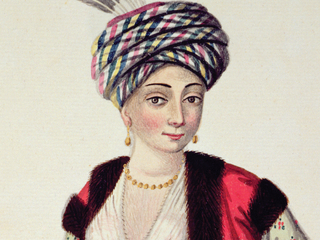 On Tuesday, September 27, 2016, Dr. Bernadette Andrea--the Celia Jacobs Endowed Professor at the University of Texas, San Antonio--will deliver a lecture in the Albin O. Kuhn Library Gallery as part of MEMS' year-long focus on Islam. Dr. Andrea will speak on "The Islamicate Geographies of 'The Female Wits' on the Early Modern English Stage." 
During the second half of the seventeenth century, both the suppression of the public stage and its "restoration" along with the monarchy were represented through shifting signifiers of Islam, most of them distorted by English ignorance and prejudice. Such signifiers range from Oliver Cromwell's depiction as a "Turkish tyrant" to Charles II's portrayal as the polygamous "Grand Signior." The first production to test the ban on public performances—William Davenant's The Siege of Rhodes in 1656—featured a Muslim character as its protagonist. John Dryden's The Conquest of Granada, which launched the genre of Restoration heroic drama in 1670, followed Davenant's lead. It is within this ideological framework that English women found new opportunities for public expression as actresses, patrons, and playwrights. While other women penned and even performed plays during the Restoration, the sustained professional career of Aphra Behn, who bore the orientalist epithet "Loves great Sultana," set the stage for the epochal season of 1695/96, when a group of female playwrights debuted together for the first time in English theatrical history: Catherine Trotter, Delarivier Manley, and Mary Pix. Two of their plays contain explicitly Islamicate themes, whereas none of the male playwrights for this season followed suit. This presentation assesses these plays, and others by "the female wits," with attention to their "imaginative geographies" (in Edward Said's phrase) and how their gendered themes shape a discourse of competing empires.
This event is sponsored by the Medieval and Early Modern Studies Minor and the Department of English. Refreshments will following this exciting talk, so we look forward to seeing you there.
Biographical Statement: Dr. Andrea received her Ph.D. from Cornell University. Her recent books include English Women Staging Islam, 1696–1707 (Centre for Reformation and Renaissance Studies [University of Toronto], 2012); Early Modern England and Islamic Worlds, with Linda McJannet (Palgrave Macmillan, 2011); and Women and Islam in Early Modern English Literature (Cambridge University Press, 2007).