Sound Studies Faculty Working Group Symposium
Wednesday, May 4, 2016
4:00 PM – 5:30 PM
Performing Arts & Humanities Building : Music Box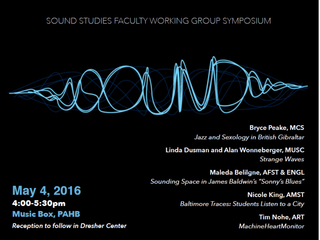 The Sound Studies faculty working group, sponsored by the Dresher Center for the Humanities, will be hosting a symposium on May 4, 2016 from 4:00 PM to 5:30 PM in the Music Box (of the Performing Arts and Humanities Building). This symposium includes six excellent speakers from across campus for a truly interdisciplinary examination of sound studies. The symposium includes:
Bryce Peake, MCS
Jazz and Sexology in British Gibraltar
Linda Dusman and Alan Wonneberger, MUSC
Strange Waves
Maleda Belilgne, AFST & ENGL
Sounding Space in James Baldwin's "Sonny's Blues"
Nicole King, AMST
Baltimore Traces: Students Listen to a City
Tim Nohe, ART
MachineHeartMonitor
Please come join us for this exciting symposium and the interesting conversations it is sure to engender. A short reception will follow in the Dresher Center for the Humanities.