Areas of Interest: Medieval Studies and Shakespeare
Gail Orgelfinger, Senior Lecturer Emerita in English, received a B.A. in English from The George Washington University, graduating With Distinction, With Departmental Honors, and Phi Beta Kappa. She earned her A.M. and Ph.D. from the University of Chicago, specializing in English and French medieval literature. Her dissertation, revised and published by Garland Medieval Texts, was an edition of The Hystorye of Olyuer of Castylle (New York: Garland, 1988). She received an NEH grant to study "Lay Life in the Middle Ages" at Indiana University, developing an interest in chivalric narrative. She recently contributed the annotations for "Joan d'Arc" to a new edition of Mary Hays's Female Biography: Memoirs of Women Writers, ed. Anna M. Fitzer & Gina Luria Walker, eds., Part II (London: Pickering & Chatto, 2012). She is a Founding Member of the International Joan of Arc Society. Her new book, Joan of Arc in the English Imagination, 1429–1829, will be published by Penn State Press in 2018.
The many courses on medieval studies and medievalism Dr. Orgelfinger teaches include "The Literature of Chivalry," "Images of Joan of Arc," "The British King Arthur," and "Robin Hood in Legend and Film." Her interests in medievalism (in Leslie Workman's words, "the continuing process of creating the Middle Ages") have led to publications on "J.K. Rowling's Medieval Bestiary," in Studies in Medievalism XVII and "Carl Dreyer's Passion Play in La Passion de Jeanne d'Arc and Jesus" (Film & History CD-ROM Annual, 2003). She also has a new review published in Digital Philology 5.1 (Spring 2016) on Renate Blumenfeld-Kosinski's The Strange Case of Emine de Reims: A Medieval Woman Between Demons and Saints. 
At UMBC, she is actively involved with the English Honors Program and the Honors College, which named her its 1998-99 Teacher of the Year, a Faculty Fellow for 2008-10 and 2012-14, and Fellow of the Year for 2013-14.
---
Book
---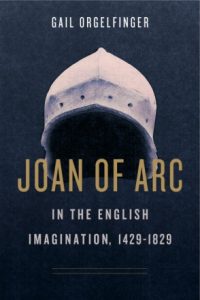 Joan of Arc in the English Imagination, 1429–1829
Penn State University Press, 2019
In this book, Gail Orgelfinger examines the ways in which English historians and illustrators depicted Joan of Arc over a period of four hundred years, from her capture in 1429 to the early nineteenth century.
The variety of epithets attached to Joan of Arc—from "witch" and "Medean virago" to "missioned Maid" and "shepherd's child"—attests to England's complicated relationship with the saint. While portrayals of Joan in English popular culture evolved over the centuries, they do not follow a straightforward trajectory from vituperation to adulation. Focusing primarily on descriptions of Joan's captivity, trial, and execution, this study shows how the exigencies of politics and the demands of genre shaped English retellings of her military successes, gender transgressions, and execution at the hands of her English enemies.
Orgelfinger's research illuminates how and why English writers and artists used the memory of Joan of Arc to grapple with issues such as England's relationship with France, emerging protofeminism in the early modern era, and the sense of national guilt over her execution.
A systematic analysis of Joan's English historiography in its political and social contexts, this volume sheds light on four centuries of English thought on Joan of Arc. It will be welcomed by specialist and general readers alike, especially those interested in women's studies.