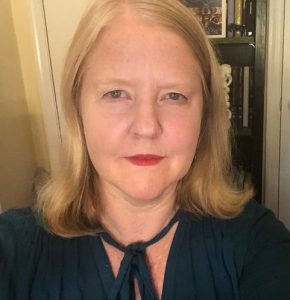 Areas of Interest: British Romanticism
---
Contact Information
Email: osmith@umbc.edu
Office: PAHB 433
Office Number: 410-455-2138
Education
Ph.D. in English, Loyola University Chicago
B.A. in English, Bennington College
---
Biography
---
Dr. Orianne Smith is Associate Professor of English, Graduate Program Director, and Affiliate Associate Professor of Gender and Women's Studies, as well as President of the Faculty Senate and Chair of the University Steering Committee. Smith attended Loyola University  Chicago, where her dissertation on Romantic-era millenarianism and women writers won the 2005 Dissertation of the Year Award for the Humanities. Her teaching and research interests include gender and Romanticism, the Gothic, and the connections between religion, superstition, and magic in the eighteenth and nineteenth centuries. Her book, Romantic Women Writers, Revolution and Prophecy: Rebellious Daughters, 1786 -1826, was published with Cambridge University Press (2013; paperback 2015). This book received the First Book Award from the British Association of Romantic Studies in 2015. She is the editor of Mary Robinson's Hubert de Sevrac (1796), published by Pickering & Chatto in 2009, and is currently completing an edition under contract with Broadview Press of Helen Maria Williams's Julia, A Novel (1790). Her current book project traces the gendered and socio-historical significance of the Romantic preoccupation with magic and witchcraft.
Smith has received a number of research grants and fellowships, including a fellowship at the Huntington Library (2003), a Keats-Shelley Association Pforzheimer Grant (2003), a Chicago English-Speaking Union Fellowship for Study in the UK (2003), an ASECS (American Society for  Eighteenth-Century Studies) Women's Caucus Editing Fellowship (2005) and, most recently, a UMBC Special Research Assistantship/Initiative Support (SRAIS) grant to conduct research at the British Library in 2012-13. She was also the recipient of a Folger Institute Seminar Grant-in-Aid in Spring 2008.
---
Books
---

Romantic Women Writers, Revolution, and Prophecy: Rebellious Daughters, 1786-1826
Cambridge University Press, 2013 (paperback 2015)
Convinced of the end of the world, many Romantic women writers assumed the role of the female prophet. Smith argues that their prophecies were performative acts in which the prophet believed herself to be authorized by God to bring about social or religious transformation through her words. They not only thought in millenarian terms but did so in a way that significantly alters our current critical view of the relations between gender, genre, and literary authority in this period.