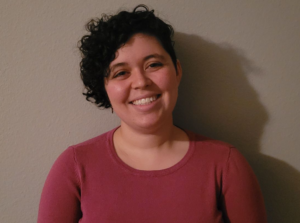 Alexandra Rittie, '19, is a former UMBC English student who currently works for a branch of the US
Department of Justice. Read about her experience at UMBC and post-graduation work below:
When I started my undergraduate studies at UMBC, I was pursuing a degree in the Computer Science track. It seemed like a good career option and fit with the ideas and aspirations I had for myself at the time. I had always loved English and writing, but I never considered studying it until after a full year of realization that Computer Science wasn't meant for me.
At the beginning of my sophomore year, I changed tracks completely to pursue dual degrees in English and Psychology, even though I still wasn't sure that those subjects were what I really wanted to study. It wasn't until my second semester that year, when I took my first class in medieval literature, that I truly started to become passionate about my English degree. From classes on the poetry of World War I and William Blake, to seminars focused on the portrayal of food in medieval literature, I found myself exposed to a breadth of different subjects and works from all sorts of authors and time periods.
The professors I met here continuously encouraged me to advance my abilities and research into topics of my choice. I took a number of classes with Dr. McKinley, and her encouragement helped me to pursue topics I found interesting, providing me with insights and guidance along the way. The enthusiasm she and all the other professors showed for their subjects meant they kept themselves open to discussions both in and outside of class and provided the utmost support to the students studying with them. Now, I work for the federal government, utilizing the critical thinking and writing skills I gained in pursuit of my Bachelor's degrees every day. Working at our headquarters office means handling a fast-paced and ever-changing environment, as we assist with the administrative tasks that allow for our nationwide offices to continue their own work in support of our mission. While I do sorely miss my time at UMBC with
the English department, my hope is to continue in this line of work and eventually pursue a graduate degree. Whether I stay with my current job or decide to change tracks again, I hope to carry the passion nurtured here with me along the way.
This spotlight was originally published on November 8, 2021.