Areas of Interest: American and British Journalism, H.L. Mencken, George Orwell,
Newspaper Columns and Columnists, Feature Writing, Travel Writing, Literature of Non-Fiction,
and Literature of the American Road Trip
---
Contact Information
Email: corbett@umbc.edu
Office: PAHB 413
Office Number: 410-455-2165
Education
B.S., Northwestern University
---
Biography
---
Christopher Corbett, Professor of the Practice, was a working journalist for three decades before joining the faculty at UMBC. He was primarily a report and news editor for the Associated Press, a worldwide news organization with 243 bureaus around the globe. Corbett's journalism has also appeared regularly in the New York Times, the Washington Post, the Wall Street Journal, the Los Angeles Times, the Philadelphia Inquirer, and the Boston Globe, among many other major American newspapers.
Throughout his career, his work has also appeared in publications ranging from the New Yorker to the British weekly, the Spectator (the oldest magazine in the world). For more than twenty years, Corbett wrote the column "The Back Page" for Baltimore's Style magazine, twice-winner of the City and Regional Magazine Award for Best Column. His work can also be found in several anthologies, including In A Word: Dictionary (Random House, 1992) and Articles and Insights (Allyn & Bacon, 1993)–a collection of the best writing from the Washington Post's Style section.
A published novelist, Corbett was award a fellowship in fiction by the Maryland State Arts Council. In addition, in 1990, he was the Journalist-in-Residence at the James Thurber House in Columbus, Ohio, and a visiting faculty member at Ohio State University. From 1990 to 1993, Corbett was Journalist-in-Residence at Loyola University in Baltimore.
---
Books
---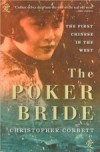 The Poker Bride: The First Chinese in the West
Atlantic Monthly Press, 2010
When the gold rush gripped the globe in 1849, thousands of Chinese immigrants came through San Francisco on their way to seek their fortunes. They were called sojourners, for they never intended to stay. In The Poker Bride, Christopher Corbett uses a little-known legend from Idaho lore as a lens into this Chinese experience, reconstructing a lost period of history when the first Chinese sojourners flooded into the country and left only glimmering traces of their presence scattered across the American West.
---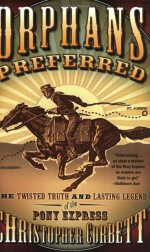 Orphans Preferred: The Twisted Truth and Lasting Legend of the Pony Express
Broadway Books, 2003
The Pony Express is one of the most celebrated and enduring chapters in the history of the United States. It is a story of the All-American traits of bravery, bravado, and entrepreneurial risk that are part of the fabric of the Old West. Orphans Preferred is both a revisionist history of this magnificent and ill-fated adventure and an entertaining look at the often larger-than-life individuals who created and perpetuated the myth of "the Pony," as it is known along the Pony Express trail that runs from St. Joseph, Missouri, to Sacramento, California.
---

Vacationland
Viking Books, 1986
Chick Devine–bringer of good cheer, prognosticator, pundit, and promoter–and his band of merrymakers provide entertainment for the citizens of Maine with such diversions as Homarus Americanus, the scourge of Eggemoggin Reach, also known as Ernie the hundred-pound lobster, in Christopher Corbett's novel Vacationland, set in Abenaki county, Maine's poorest, inadvertently omitted from the state highway map.