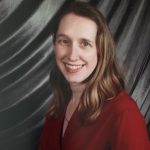 Areas of Interest: Disability studies, autism studies, gender studies, 20th and 21st Century American Literature, young adult literature
---
Contact Information
Email: klashley@umbc.edu
Office: PAHB 438
Office Number: 410-455-2021
Education
Ph.D., Morgan State University
---
Biography
---
Katherine Lashley, lecturer, teaches composition, grammar, and creative writing at UMBC. She received her Ph.D. from Morgan State University.
Her current research projects include analyzing autism in literature. Her memoir, Growing Up With An Older Autistic Sister, explores autism in a sibling relationship.
She recently co-published a collection of short stories entitled Old Farts in Space, which chronicles the adventures of senior citizens as they travel to a distant planet to find a new home.
Her current creative projects include collections of short stories on autism, the monstrous female in fantasy and science fiction, and the Ph.D. process.
For more information on her work, please visit https://www.katherinelashley.com/