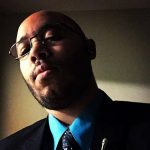 Areas of Interest: Nineteenth and Twentieth-Century American Literature with an Emphasis on Race, Gender, and Cultural Politics
---
Contact Information
Email: cvarlack@umbc.edu
Office: PAHB 418
Office Number: 410-455-2755
Education
Ph.D. in English, Morgan State University
MFA in Creative Writing, University of Southern Maine
B.A. in Communications, Loyola University Maryland
---
Biography
---
Christopher Allen Varlack, Lecturer, teaches courses in composition, advanced research writing, and creative writing as a member of the Writing and Rhetoric Division (WARD) here at UMBC since 2014. For the 2017-2018 academic years, he will also serve as an
Honors Faculty Fellow
, teaching courses in global civil rights literature with an emphasis on race, gender, orientation, and disability, working with students in the
Honors College
to better understand how literature can not only highlight modern social ills but also demand necessary socio-political change.
His work in the classroom is largely inspired by his philosophy as both a writer and a scholar interested in how literature can preserve or reclaim the voices of the past, shedding new light on the struggles and the people who ultimately shape our experience today. Much of his scholarship therefore focuses on antebellum literature as well as literature of the Harlem Renaissance and Civil Rights eras. As part of that research, his current book project focuses on tracing the alternative artistic as well as intellectual strategies of the rebel sojourner Claude McKay through the seven known novels he produced throughout his lifetime.
In addition to his work as a member of the Department of English, he has also served since 2014 on the Interdisciplinary Studies Committee. As a result, he has had the opportunity to become a degree mentor for several INDS students to date pursuing individualized degrees in the areas of public health advocacy, interactive game design, and graphic storytelling and publishing. Through that work, he has encouraged his students to push for new heights of academic and scholarly excellence, including conference presentations, encyclopedia entries for projects with Greenwood Press, and book chapters in edited volumes produced by Grey House and McFarland in 2017.
After serving as Interim Secretary for 2016-2017, Dr. V. was elected Secretary of the Langston Hughes Society at the organization's annual luncheon in 2017 and will hold that position until 2020. He also serves as the Vice President of Development for the Society for the Study of American Women Writers (SSAWW) until 2018 with the option of serving another term.
For more information about Dr. V. and his work, please visit his website at
www.ChristopherAllenVarlack.com
---
Representative Publications
---
"'Never . . . Let Color Interfere': The Insurgent Black Intellectual Writing of Harlem's Literary Midwife, Jessie Redmon Fauset." Bury My Heart in a Free Land: Black Women Intellectuals in Modern U. S. History, edited by Hettie V. Williams, Praeger, 2017. Forthcoming 2017.
"Towards a Trans-Atlantic Approach: Tracing the Modernist Psychodrama and Wasteland Critique—the Poetry of the Political Imagination." Writing the Harlem Renaissance: Revisiting the Vision, edited by Emily Allen-Williams, Lexington, 2017, pp. 13-28.
"'Crooning [the] Lullabies [of] Ghosts': Reclamation and Witness as Socio-Political Protest in the Short Fiction of Alice Walker." Critical Insights: Civil Rights Literature—Past & Present, edited by Christopher A. Varlack, Salem/Grey House, 2017, pp. 151-173.
Introduction. The Souls of Black Folk, by W.E.B. Du Bois, Fall River, 2016, pp. vii-xiii.
"'A Canticle of My Reaction': Socio-Cultural Criticism in Claude McKay's A Long Way from Home." Critical Insights: American Creative Non-Fiction, edited by Jay Ellis, Salem/Grey House, 2015, pp. 95-109.
"'It Had Grown Into a Machine: Transience of Identity and the Search for a Room of One's Own in Quicksand and Plum Bun: A Novel Without a Moral." Critical Insights: Virginia Woolf & 20th Century Women Writers, edited by Kathryn S. Artuso, Salem, 2014, pp. 152-166.
"Soul on Ice: The Rise of Minority Literature." Baby Boomers and Popular Culture: An Inquiry into America's Most Powerful Generation, edited by Brian Cogan and Thom Gencarelli, Praeger, 2014, pp. 339-349.
"The Colored American." Defining Documents in American History: Manifest Destiny and the New Nation (1803-1860), Salem, 2013, pp. 468-475.
"The Gender Mountain: The Architecture of Male-Female Relationships in Hurston's Short Fiction." Critical Insights: Zora Neale Hurston, edited by Sharon Jones, Salem, 2013, pp. 101-122.
---
Books
---
Critical Insights: Civil Rights Literature, Past & Present
Grey House, 2017
American civil rights literature has largely been associated with speeches, letters, and non-fiction works produced by African-American activists of the 1950s and 60s such as Dr. Martin Luther King, Jr. and Malcolm X. This volume, featuring nineteen critical essays from leading and emerging scholars in the field, not only examines key works of the African-American civil rights debate past and present; it also explores issues of gender equality, sexual orientation, and the socioeconomic divide that are integral to a sustained discussion of civil rights studies.
---
Critical Insights: Harlem Renaissance
Grey House, 2015
Because of its impact in shaping the American cultural imagination, the Harlem Renaissance has since been heavily studied as the most significant period of artistic as well as cultural development the Black community has ever experienced. This volume, featuring nineteen critical essays and arguably one of the most comprehensive timelines of the Harlem Renaissance to date, seeks to offer expanded readings of its central themes while also providing valuable insight into the texts, authors, and critical perspectives too often overlooked, from insights into the visual culture of the era to the folk origins of the late Harlem Renaissance.