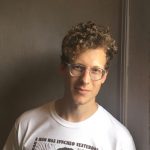 Areas of Interest: African American Literature and Culture, Disciplinary History, Critical Ethnic Studies, the Black Radical Tradition, and the U.S. American University
---
Contact Information
Email: andy.hines@umbc.edu
Office: PAHB 310
Education
Ph.D. in English, Vanderbilt University
M.A. in English, Vanderbilt University
---
Biography
---
Andy Hines [he/his/him] is Visiting Research Assistant Professor in the Department of English. At UMBC, he is acting in a research role and is working on two book-length projects. The first, Understanding New Criticism: Blackness and the University, recounts how mid-twentieth century black writers defined black literature through and against the institutionalization of literary studies in predominantly white universities. The second project examines contemporary fiction by writers of color that depicts the American university as a force for policing and dispossessing communities of color through geographical expansion and student debt.
His academic writing has been published in Criticism and English Language Notes. He has also written on the university, disciplinary history, and anti-black racism for public venues, including Public Books and Blind Field. He has earned a number of awards for his research and teaching, including the Founder's Medal, Vanderbilt University's highest honor given to a graduating student.
Dr. Hines comes to UMBC from the University of Southern Indiana, where he served as Assistant Professor of English and where he helped found an Africana Studies minor.
For more information on his work, please visit http://www.andyhines.net.