---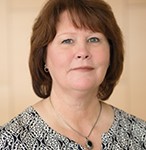 d
Contact Information
Email: harrell@umbc.edu
Office: PAHB 420
Office Number: 410-455-2480
d
d
d
---
Susan Harrell, Executive Administrative Assistant for the English Department, came to UMBC in 1981 from the Maryland School for the Deaf, Columbia Campus, and has worked in the English Department from day one for the past thirty-three years. Harrell supervises two administrative assistants and student workers, and is a liaison between staff and the chair, and with other campus departments. She works closely with the chair and the director of the Writing and Rhetoric Division to create a congenial work environment by anticipating future needs and resources.
In 2013, she became the department's graduate program coordinator, and she was instrumental in getting the new graduate program up and running successfully. In addition, she is the administrative assistant for the Medieval and Early Modern Studies Minor.
Harrell also serves the campus as a member of the Non-Exempt Staff Senate and its Business Managers' group. Because of her years of service, she was chosen to receive the Presidential Staff Award for 2014-2015. She is also married to her junior high school sweetheart, has two sons (one who graduated from UMBC), two daughters-in-law, and a grandson.